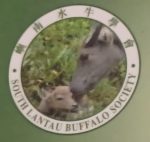 Raise money for South Lantau's water buffalo herds.
100% of all funds raised go directly towards the care and management of local buffalo herds under expert local herdsman Jean Leung whose close relationships with all of the animals is unmatched in guiding the resources where they are needed most urgently with zero waste.
South Lantau Buffalo Society estimates that the annual cost for wound and tick-care medication and for feeding the water buffalo during the winter months is around HK$300,000.
Donate directly towards the feeding program:
South Lantau Buffalo Society
REF CP/LIC/19/59395 - Jean Leung, Chair
Direct donations can be made by bank deposit to:
Chiyu Banking Corporation Ltd
Account No: 730-2-002708-5
The Hongkong and Shanghai Banking Corporation Ltd
Account No: 741-254809-001
⁠Contact the society if you have an idea for a fundraising event – quiz night, music night, charity hike or would like to join the committee.
Entered: 1 April 2023 | Updated 15 August 2023
Note: The publisher donates 10% of all community membership fees to the South Lantau Buffalo Society and sponsors full service promotional campaigns at no cost to the society. Contribution records are available upon request.